News


Read our latest news, stories and articles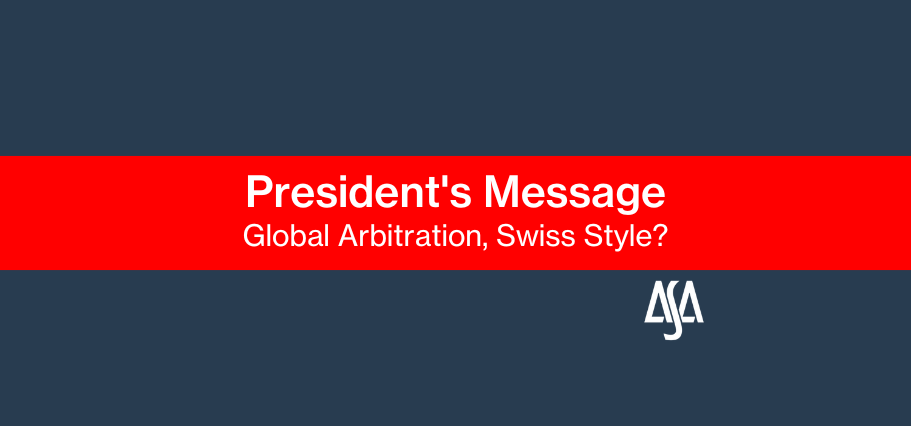 ---
Global Arbitration, Swiss Style?
"Global Arbitration, Swiss Style" was the motto at Swiss Arbitration's booth at the ICCA Conference in Edinburgh last September. We also had a wheel of fortune on a large touchscreen. Guess what, the chance of winning a Swiss army knife or a one-year subscription to the ASA Bulletin attracted more attention. Still, there was room for sometimes thoughtful, sometimes witty, sometimes thoughtful and witty discussions about what – if anything – makes Swiss arbitration different. Indeed, what, if anything, is special about Swiss arbitration?
First, it is global, all right: parties come from all over the world, often to settle disputes that have no other connection to Switzerland; counsel and arbitrators hail from anywhere; any language, any law and any matter is suitable, and all in all it purports and is acknowledged to be ideal for international trade.
Second, is there really a Swiss style? Reflecting on this, I recall an intense discussion in Switzerland way back in 1992. At the World Exhibition in Sevilla that year, the Swiss Pavilion was adorned by the official Swiss artist with the text "Suiza no existe" – Switzerland does not exist. This did not go down well with the Swiss public. The Swiss Government rushed to the defence of the artist explaining that this provoking motto captured the diversity of Switzerland. Well, it was a nice try.
Borrowing from that event, I am tempted to answer the question with a simple "a Swiss arbitration style does not exist". A somewhat less simple answer, the one we tried to convey in Edinburgh, goes rather like this: First and foremost, the Swiss arbitration community – both Swiss nationals and our international colleagues – know that not one size fits all. Proceedings have to be tailored to the needs and expectations of the parties, taking into consideration their cultural and legal background. In that respect, a Swiss style is indeed defined by its absence.
Having said that, I suggest some characteristics that parties can expect from Swiss arbitration proceedings:

Party autonomy: Switzerland has one of the world's most liberal and modern arbitration laws (Chapter 12 of the Swiss Private International Law Act, carefully revised just two years ago) with an unrivalled focus on party autonomy and validity of arbitration agreements
Cosmopolitan approach with a large pool of Swiss counsel and arbitrators typically trained in more than one legal system and jurisdiction
Efficiency: through steady and proactive case management, reasonably short hearings and limited document production (unless, of course, the parties agree otherwise)
Plurilingualism: little need of translations due to wide-spread familiarity with various languages. You can also use English in setting-aside proceedings before the Federal Supreme Court
Settlement-friendliness: where invited by the parties, arbitrators may offer to facilitate amicable settlement already at an early stage, e.g. by providing preliminary views on the respective strengths and weaknesses of the parties' cases after a first exchange of memorials
Confidentiality, including in setting-aside proceedings – judgments are anonymized
Timely finality: you do not spend more time in the courts than in the arbitration. The Federal Supreme Court as sole instance in setting-aside proceedings takes an extremely efficient and arbitration-friendly approach and typically decides within around six months
Stability and neutrality: no strikes, no hurricanes, no unsettling regime changes, no sudden visa restrictions

Hence, there is a Swiss style or at least a Swiss approach to international arbitration, both for commercial and investment disputes. The proceedings may come in various shades and shapes but will still be recognizably global with a benevolent Helvetic touch.
Felix Dasser