News


Read our latest news, stories and articles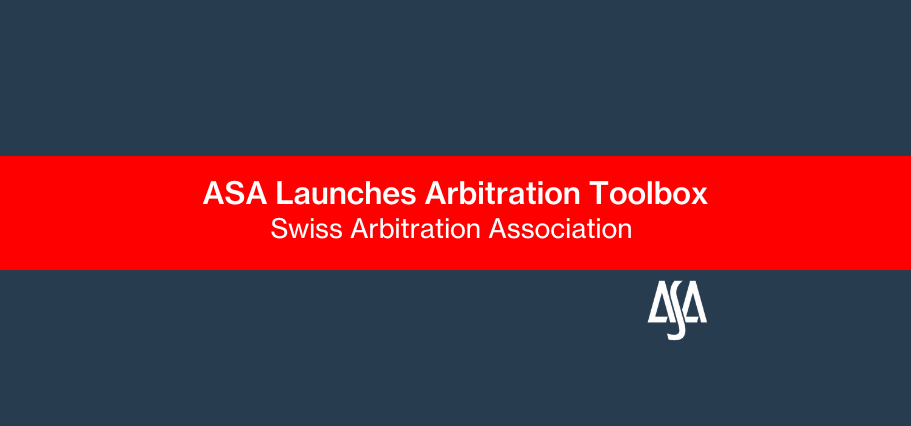 ---
ASA Launches Arbitration Toolbox
The Swiss Arbitration Association (ASA) announces the launch of its Arbitration Toolbox. The Arbitration Toolbox by ASA is an electronic platform that provides practical advice on the various stages of an arbitration by emphasizing the flexibility of arbitration proceedings.
Arbitration Toolbox by ASA
Having recently launched the new Swiss Arbitration platform, ASA is proud to announce the inclusion of an additional tool to its platform: the Arbitration Toolbox by ASA.
Back in 2016, under then-President Elliott Geisinger, ASA initiated the Toolbox project with the aim to emphasize the flexibility of the arbitration process and to provide practical advice on the different steps available in an arbitration. Since then, ASA, under the lead of Gabrielle Nater-Bass, Stefanie Pfisterer, and Dilber Devitre of Homburger in Zurich, has created an innovative user-friendly IT tool that was developed and tested with the help of distinguished international arbitration practitioners.
Being an electronic tool that features a desktop as well as mobile version, the Arbitration Toolbox by ASA is uniquely positioned to provide arbitration-related information for users, arbitrators, and academics. Its intuitive structure allows newcomers to explore the basics of proceedings and provides experienced practitioners with sophisticated advice and tested templates in all kinds of situations they may encounter. As such, the Toolbox perfectly complements the UNCITRAL Notes on Organizing Arbitral Proceedings.
The Arbitration Toolbox by ASA can be accessed through ASA's new Swiss Arbitration platform at www.swissarbitration.org.
Melanie van Leeuwen of Derains & Gharavi, a member of the Arbitration Court of the Swiss Arbitration Centre who was among the practitioners that tested the Arbitration Toolbox, explains that "this electronic platform is unique in its form and guides arbitration users with all kinds of backgrounds through the various decisions that need to be taken throughout an arbitration. It does so on the basis of decision trees that show the effects of a decision taken for the further course of the arbitration."
Launch Event on 22 June 2021
The Arbitration Toolbox by ASA will be presented at a virtual launch event scheduled to take place on 22 June 2021, organized by Tanya Landon of Sidley Austin in Geneva, Catherine A. Kunz of LALIVE in Geneva, and Chris Boog of Schellenberg Wittmer in Zurich and Singapore. This special event is free of charge and you may register here.
Felix Dasser of Homburger in Zurich and President of ASA comments: "The Arbitration Toolbox by ASA is another example of ASA's thought leadership and promotion of arbitration also on a global level. Thanks to the huge effort put in by the eminent arbitration practitioners who created the Toolbox, the Toolbox is a unique tool that assists arbitrators and parties in making best use of the many options that arbitration has to offer."