News


Read our latest news, stories and articles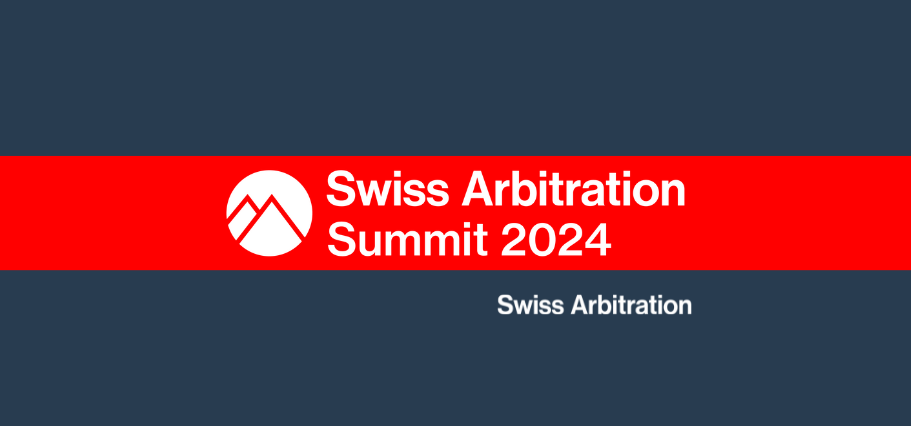 ---
The Swiss Arbitration Summit: Shaping the Future of Arbitration Together
In celebration of the 50th anniversary of the Swiss Arbitration Association (ASA), we are delighted to announce the Swiss Arbitration Summit, a comprehensive five-day event set to take place alongside the ASA and Swiss Arbitration Centre Winter Conferences from 31 January to 4 February 2024 in Geneva.
In the world of international arbitration, Switzerland has always been a trusted hub for resolving disputes. Today, we are thrilled to announce a significant evolution in our commitment to the field with the introduction of the Swiss Arbitration Summit.
The Swiss Arbitration Summit is more than just a conference. It is a comprehensive, five-day event designed to shape the future of arbitration in collaboration with arbitration professionals from around the world. We are expanding our horizons to provide a platform that not only promotes Switzerland as a seat for international arbitration but also showcases the dynamic Swiss arbitration community and attracts global practitioners to our beautiful country.
What's New at the Swiss Arbitration Summit?
The newly launched format of the Summit will include an array of interesting activities that span
five days:
Arbitration Focused Sessions
The Summit will offer various individual sessions that delve into a variety of topics covering a range of issues and jurisdictions. We will give law firms and other organisations the opportunity to set up these events.
Young Professionals Session
Recognising the importance of promoting young talent in the arbitration field, ASA below 40 will host a session specifically designed for young professionals to network, learn, and exchange views.
Collaboration with Other Associations and Educational Institutions
As we believe in the power of partnership, we have invited other associations and educational institutions to join us.
The Innovation Conference
Hosted by the Swiss Arbitration Centre, the Innovation Conference is a highlight of the Summit. It's a place where cutting-edge ideas and advancements in arbitration take centre stage.
ASA Gala Dinner
Our famous ASA Gala Dinner returns, featuring special guests and a memorable night of celebration.
ASA's 50th Anniversary Conference
As part of the Swiss Arbitration Summit, we will dedicate a conference day to celebrate 50 years of ASA with panels discussing the settlement of disputes in times of geopolitical crises, the role of advocacy, and how Swiss Arbitration could live up to the needs and expectations of its users.
A Swiss Ski Weekend
To add an extra touch of Swiss charm, we've included a ski weekend in a picturesque Swiss alpine village. It's an opportunity to relax, connect, show off your winter sports skills or just sit back and enjoy the stunning alpine scenery.
Why You Should Join Us
As a participant/delegate:
The Swiss Arbitration Summit offers participants an immersive experience where knowledge merges with networking. Whether you're a seasoned arbitration practitioner or just stepping into the world of arbitration, the Swiss Arbitration Summit promises to be a journey filled with insights, industry connections, and a deeper appreciation of Switzerland's pivotal role in global arbitration.
Affordable Access
To ensure knowledge is accessible to all, in addition to paid events such as the ASA Conference and the Innovation Conference, there will be numerous free events taking place throughout the Summit.
Unforgettable Ski Weekend
For those seeking a truly Swiss experience, a ski weekend in Switzerland offers quality and adventure. It's a chance to unwind, connect, and enjoy the breathtaking Swiss Alps while making lasting memories.
Networking Opportunities Abound
The Swiss Arbitration Summit provides numerous opportunities to expand your professional network and forge connections with peers, experts, and industry leaders from all over the world. Whether it's during the sessions or social events, the Summit will offer many opportunities to meet and connect.
Prime Location in Geneva
Our choice of venue in Geneva is conveniently located and offers the perfect starting point for exploring this vibrant city. Located on the shores of Geneva's famous Lac Leman and a stone's throw away from the historic old town and the famous Rue du Rhône shops, the Summit will be your chance to discover Geneva's cultural, historical, and scenic delights.
Innovative Content and Sessions
Our event stands out for its innovative content and sessions. We have curated a program that delves deep into the latest trends and emerging topics and encourages thought-provoking discussions in the field of international arbitration. From interactive workshops to engaging panel discussions, every session is designed to broaden your horizons and inspire new ideas.
As a partner or sponsor – Elevate Your Engagement at the Swiss Arbitration Summit
At the Swiss Arbitration Summit, we believe that arbitration's vibrant landscape extends across diverse industries, each presenting unique challenges and opportunities. We're excited to offer the opportunity to organise sessions on a variety of topics aimed at fostering collaboration and knowledge exchange among legal service providers, arbitration institutions and other arbitral organisations, educational institutions and research centres. This is your prime opportunity to connect, network, and collaborate with industry professionals while making a lasting impact on our diverse community of arbitration enthusiasts.
For Legal Services Providers
This is your chance to shine a spotlight on your industry-specific expertise. As a sponsor, you can actively participate and even organise your own event within our comprehensive program. You'll gain high visibility through our program and extensive online promotions.
For Arbitration Institutions and Organisations
Your leadership in shaping the arbitration field is pivotal. We're offering exclusive sponsorship opportunities that empower your institution or organisation to actively participate and organise events within our program. As sponsors, you'll secure valuable timeslots and gain high visibility through our program and extensive online promotions.
For Educational Institutions and Research Centres
Education and research are the cornerstones of arbitration's advancement. We have several opportunities to host industry-related sessions, and we're excited to offer exclusive sponsorship opportunities to educational institutions and research centres. Actively participate and organise events within our program and gain high visibility through our program and extensive online promotions.