News


Read our latest news, stories and articles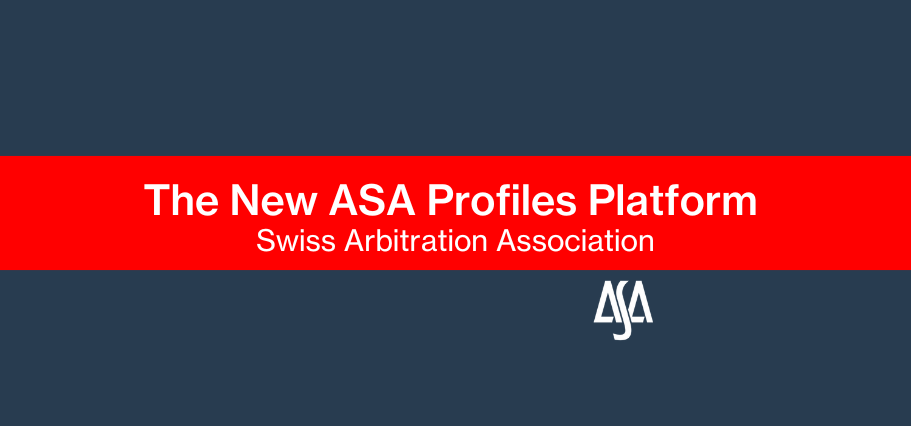 ---
Introducing the New ASA Profiles Platform: Your Ultimate Tool for Finding the Right Legal Expert 
Are you looking for a counsel, arbitrator, mediator, legal or technical expert who can help you with your dispute, but don't know where to start? Look no further than the new ASA Profiles platform! Developed by the Swiss Arbitration Association (ASA), this online tool is designed to help you find the right specialist for your needs – quickly and easily.
What is ASA Profiles?
ASA Profiles is a fully searchable database of specialists: counsel, arbitrators, mediators, as well as legal and technical experts. With its advanced search functions, you can search for specialists based on a variety of criteria, such as area of specialisation, legal background and bar admission, languages, nationalities, countries of residence, gender, as well as level of experience with specific laws, seats, and institutions.
In addition, the platform provides access to deeper insights into the individuals through the listing of referees who can be contacted for further feedback. This way, you can get a better understanding of someone's experience, skills, and reputation before making your final decision.
Who Developed the new ASA Profiles?
The enhanced ASA Profiles platform was developed by an ASA task force of practitioners in leading law firms in Switzerland, including Felix Dasser (ASA President, Homburger, Zurich), Xavier Favre-Bulle (Lenz & Staehelin, Geneva), Cesare Jermini (Bär & Karrer, Lugano), Noradèle Radjai (LALIVE, Geneva), and James Menz (Rothorn legal, Zurich).
According to Felix Dasser, ASA President, "The ASA Profiles platform represents a significant milestone for ASA. With this enhanced tool, we aim to provide our members with an even easier and more efficient way to find the right specialist for their needs, and to promote excellence in the field of arbitration and mediation."
How Can You Use ASA Profiles?
To use ASA Profiles, simply visit the Swiss Arbitration website and click on the "ASA Profiles" tab. From there, you can search for specialists based on your specific needs and preferences.
How Can You Get Your own ASA Profile?
If you are already an ASA Members and have and ASA Profile, you can update your personal profile on the platform to ensure that your information is up-to-date and accurate.
As ASA Profiles continues to evolve and expand, we now offer two profile options to accommodate the preferences and needs of users. The first option is an extensive paid profile, allowing you to share comprehensive information you wish to showcase. The second option is a slightly shorter free profile, providing visibility especially for newcomers while being more restricted.
Conclusion
Whether you are a counsel, arbitrator, mediator or expert looking to expand your reach and visibility, or a client looking for the right specialist for your dispute, ASA Profiles is the ultimate tool for you. With its advanced search functions, deep insights, and easy-to-use interface, you can find the right person for your needs in no time. Try it out today!
Questions or Feedback?
If you have any questions or feedback about the ASA Profiles, don't hesitate to contact the ASA team (asa@swissarbitration.org). It is always happy to hear from you, assist and support as needed.