News


Read our latest news, stories and articles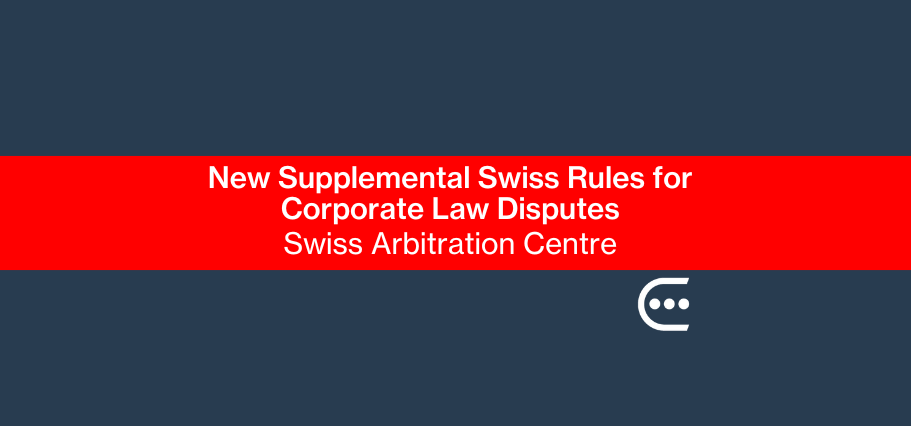 ---
Game changer for corporate law disputes
Game changer for corporate law disputes: the Swiss Arbitration Centre has unveiled today its new, state-of-the-art Supplemental Swiss Rules for Corporate Law Disputes for Swiss companies. With the entry into force on 01.01.2023 of the new Article 697n of the Swiss Code of Obligations, the articles of association of Swiss companies may provide that "corporate law disputes" be settled by an arbitral tribunal seated in Switzerland. The statutory arbitration clause in the articles of association will bind the company, the company's governing bodies, the members of such governing bodies and the shareholders, unless the articles of association provide otherwise. The Supplemental Swiss Rules for Corporate Law Disputes, which include a Model Statutory Arbitration Clause that Swiss corporate entities may choose to include in their articles of association, ensuring an efficient resolution of such corporate disputes through Swiss Arbitration and compliance with the statutory requirement. Wait no longer to discover the Supplemental Swiss Rules for Corporate Law Disputes in English, German, French and Italian. An Explanatory Note on the use of the Supplemental Swiss Rules for Corporate Law Disputes is also available in all of these languages.
***
About the Swiss Arbitration Centre:
The Swiss Arbitration Centre is an independent institution that provides high-quality arbitration and mediation services worldwide.
Every year, the Centre helps hundreds of companies and individuals resolve their disputes in a fair, private and effective manner. The Centre's services are available for any dispute, regardless of its nature, the nationality of the parties, the place of arbitration and the applicable law. The Centre can settle disputes promptly and efficiently, which allows the parties to move on quickly and get back to business.
The Centre is well known for its Swiss Rules, the golden standard for arbitration and mediation. As a platform of expertise, the Centre is supported by a global network of arbitration and ADR users, legal professionals, the Swiss Arbitration Association (ASA) and the chambers of commerce of Basel, Bern, Central Switzerland, Geneva, Neuchâtel, Ticino, and Zurich.